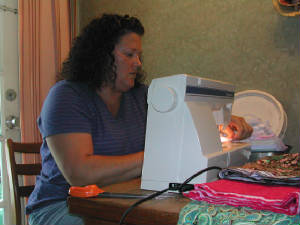 Yes, I make it ALL!
Guy Gifts!
You get your choice of a cloth giftbag that will fit the soaps and a little bit more, if you choose. One bar of our all natural soaps, the Lime and Pine Shaving/Shower soap and Cabin Fever--both nice guy scents!! Or tell me in the comments area if you have another choice!!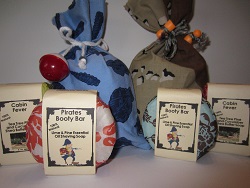 Gal Gifts!
You get your choice of a cloth giftbag that will fit the soaps and a little bit more, if you choose. And any two of our wonderful Shea Butter Soaps--your choice or if you don't specify in the comments area I will pick two!!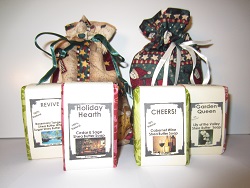 Lavender Sachets

These are traditional lavender sachets with real flower petals filling a cute little cloth bag with a flower stenciled on each bag. Lavender sachets have a purple flower, Rose have a pink flower and the Chamomile sachets have a yellow flower. Now packaged in a clear cello bag with ribbon and hangtag!




$12.00 for 4 pk. Sachets





OUT for 2017, sorry!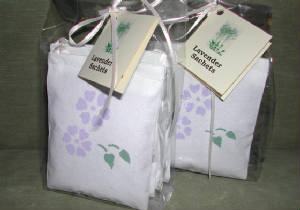 Prints: Center Pink Flower, then from top middle: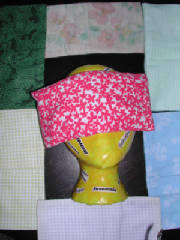 Pastel Flower, Green Stripe, Blue Fleur de Lis (out), Pink Stripe, Yellow Check, Green Leaf (out)
Herbal Eye Pillows
One of the nicest things you can do for yourself.
A great way to relax after working all day or
before bedtime. I would love for you all to
benefit from one of these stress-relieving,
headache curing, sleep inducing wonders!!!
Just place one of these pillows over your eyes
and let the lavender and rosemary do their thing.
You can warm them in the microwave or cool
them in the freezer before use--just don't get
them wet! Choose from our beautiful soft flannel
prints weighing on average about 5oz. (they are
filled by volume, however, not by weight). They
measure 8.5" by 4", a bigger, better version than
the ones I have made in the past.
$15 per Herbal Eye Pillow
Oops, did your eye pillow go through the wash? Do you need just the herb mixture pillow inside? Now you can order this eye pillow insert without the flannel "pillowcase". They measure 8" by 3.5" and fit our new covers!
$10 per Herbal Eye Pillow Insert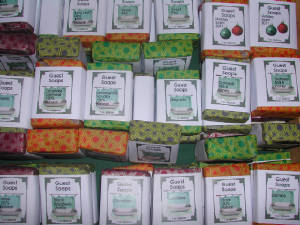 Guest Soaps
Our sample sized soaps are approximately 1 oz. of soap
individually wrapped in tissue paper with a paper cigar
band wrapper. These are not the same labels as our
full size bars. Available in 4 of any scent or you may
select up different scents by making a note in the
comments area of the ordering page.
4 bars for $6.00.
CLOTH GIFTBAGS
I have added several new cloth giftbags to my
line of sewn items. All these items are made
100% by me at home on my Viking sewing
machine. Please visit any of the links below for that special giftbag.
Now in Ivory Eyelet material--same size and style
These are the lace bags I used to display the soap in years ago. I have them in white and ivory but only while supplies last. They are generally big enough for a single bar of soap but as I make them from scratch, sizes do vary. If you need them for a particular use, let me know!

3 Bags $3.75