Monthly Special
Get three bars of our Everything but the Kitchen Sink soap for only $9! You can also get free shipping on orders over $50. Click on the button below for the special deal!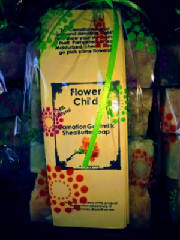 End Piece Bags
The endpiece bags this time are all one pound or more of our wonderful shea butter soap. Their are good size bars--with the lumpy tops--in the following four scents: Carnation Goatmilk, Everthing but the Kitchen Sink, Lemongrass Scrubby 100% Natural and SeaBreezes. There are four bags available and they must ship in boxes, so, your shipping will be higher than normal. Click on the button below for the special deal!
Need soap--and lots of it?? We make big batches of our Everything but the Kitchen Sink soap in a shipping box--but we cut it into long logs so you can slice off a hunk as needed. The price for you secret soap listmembers is pretty special too! More than 28 bars for $80 with free shipping!
Incense
NOTE: This will not show up on the emailed receipt or in the shopping cart. I will adjust your total MANUALLY before I run your credit card and will show the correct amount on the receipt mailed to you. ALL incense is on sale for you listmembers until it is gone. $2 per bag of ten sticks. This is our original price from the early 2000's...enjoy while they last!!
I want to clear out some of my giftbags to make room for other goodies. I have put a few of the pics up of the MANY designs of both Christmas and Everyday designs that are available. All bags are handmade by me with premium fabric and usually sell for $5 each. Save more if you buy more, now priced at $3 each. IF you buy three or more, they will be $2 each--which will not show up in your cart, but, I will do the reduction manually when I process your payment. Just ask if you want to see pics of what is available--as you can see, I don't have great pics on the website!