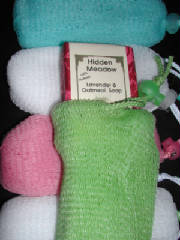 Soap-on-a-Rope Bags
I don't have a regular source for these...yet...but I love them so much I thought I better put them up on the website. You know the material the bath puffs are made from, right? These bags are made from several layers of the same material with a little drawstring cord and closer. Hang them from a hook in your shower. You can use them for all your little slivers of expensive handmade soap, or, just put a whole bar in them. They will exfoliate, they lather up wonderfully and then they rinse off completely. The best thing is that the soap inside dries completely!!! If you specify Pink, Purple, Blue or Green in the comments area of the shopping cart, I will try to get the color you want!
$5.00 assorted color

Wood Soap Decks
A pretty dark wood deck for your counters in a kitchen, bath or utility sink!

Starry Night Creations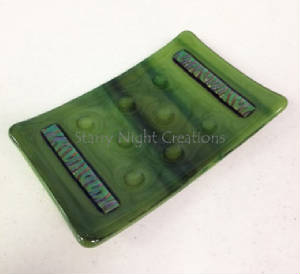 Susan Goracy has been fusing glass for over 11 years (and she used to sell my soap in her boutique in the Keys). All dichroic fused glass creations are individually created, fired, & annealed in her new studio in St. Augustine, FL. She creates a variety of pieces including night lights, ornaments, trinket dishes, plates, suncatchers, as well as dichroic jewelry pendants & rings to wear! A link to her soapdish page is below:

Jerry Lee's Soap Leaves
Jerry's leaves are great for soap because all those veins drain down to the stem, so, your soap remains high and dry. The colors are fantastic and go with most any decor. The vanity pictured is in my Mom's house and you can see a slight contour in the vanity--so the excess water drains right into the basin. My vanity does not have a lip on it, so, I prop the outer edge up with some adhesive felt pieces. Please put your soap scent in the comments area of the shopping cart--or if you forget you can email me, call me or text me at the contact numbers on the bottom of the page.