Buy 3 Handcrafted Soaps Now
Customer Reviews:



I started buying Jackie's soaps over 20 years ago back in Tallahassee at Market Days. Jackie moved and I moved, but found her online and will continue buying and using Jackie's soaps. They are the only soaps I use. Ann of Lakeland, FL email dated 7/1/2020



I did want to let you know how much I love your soap. I have had various skin issues for years and the formulation you have in the cabin fever keeps them all cleared up. Not only does it work much better then anything else I've tried but your bars also last twice as long as anything else I've tried. Thanks for a great product! Jenny S., Kenosha, WI, email dated 2/17/2020



Jackie, It was Christmas at my house today!! I was so excited to find my wonderful order in the mail. As usual, I have to decide what to use first! This is by far the best soap I have ever used. THANK YOU!!--Email from Paula L. dated 10/31/2018



Omg Jackie!!! I was SOOO excited to open my mailbox and see my package! Thank you!!! Love your speedy delivery!!!! Never stop making soap! My skin looks great because of you!!!--Email from Kelly P. dated 2/23/2018
To Order:

Know which soaps you want already and you don't want to click around the site? Click above to buy three soaps at the discounted price--regular price is $5 a bar. Remember, multiples of three bars only please! (Shaving bars for $6.00 each sold further down the page.)

Be sure to indicate all three scents you want in the drop down boxes below--you will have to click three times (those little down arrow things!) and then click the buy button. Use the back button on your browser if you get bogged down in the shopping cart. If you fill out only the first scent name, I will assume you want all three bars the scent you indicate--unless you tell me different in the comments area of the shopping cart! FYI, if the scent you normally order is not on the list, it may just be out of stock...or I may have it and forgot to put it back on the list! Just shoot me an email, text or pick up the phone!



Pirates Booty Bar, our shaving mug round and Simply Shea 100% Natural Soaps are available below! They are not part of the "3 for..." deal!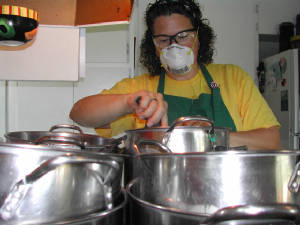 Working with the lye and the melted vegetable oils

SOAP NOTES: Handcrafted Bar Soap, 4.0 oz bar

We carry many scents year round and occassionally add

a seasonal scent or one that several of our customers have

requested. Your new soap should be kept dry between

uses and should not be left in the heat or humidity. In

other words, treat this soap like it was a newborn baby!

Our soap contains the following oils except as noted

below: Olive, organic and sustainable Palm, Coconut, Castor and Shea Butter.

We have all natural soaps (those with essential oils or no
scent/no color), Goatmilk soaps, and lots of soaps with
scrubby or exfoliating properties.

One note: if I am out of stock of a particular scent, you may

have a lead time of up to 6 weeks--patience is required.

Multiples of three bars only please!

Shipping Note: The emailed receipt you receive right after you place your order has an estimate of shipping. The amount of shipping you are charged is what the post office charges us--there is never a handling fee hidden in the cost. If you order nine bars or less, the estimate is pretty close. If you order soap and other products, the estimate is low. NOTE: as of November 2020, the shipping price for three to nine bars is $8.08. Right now the most that you may be charged is $10.82 for soap and other products with an order total under $50.

Scroll to the bottom of this page for our 100% Shea Butter Soap, and Shaving Rounds.

Oh, and if you are looking for those cute little guest soaps I sometimes have at shows, they now have their own page for the scents available on the menu!

100% Simply Shea Butter Bar Soap
You asked for it, you got it! This soap is THE luxury for those of you looking for mild, skin loving soap. Like the olive oil castile soap, it is very low lathering and very mild. Honestly to me, there is NO lather--so if you love lather, you may want to pass on this one. There is no scent or color to aggravate sensitivities. For most people, my regular line of shea butter soaps will give you all the moisture you will ever need plus great lather. If you are looking for something different, check out this special bar of soap. I make this in small batches and leave the lumpy bumpy top on them so you get a bigger bar of soap, but, it is more rustic looking!
4.5 oz. $10.00