Would you like me to help with your shopping? Tell me the dollar amount you want to spend and I will put together a great gift bag and ship it to your gift recipient. If you have any special requests for the bag, just put them in the customer comments section along with the mailing address for your gift. NOTE: Most giftbags will ship in Priority Mail Regional Rate boxes for approximately $7.00-10.82 postage per addressee. Your emailed receipt will show the standard rate of $8.08, but your postage will likely be higher if shipping outside the Midwest. Just want soap only? Up to nine bars ship in Flat Rate Priority Envelopes for $8.08!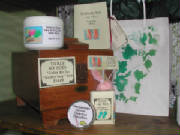 An example giftbag--yours can be customized!
Get four 1 oz. (approx) guest soaps in a variety of scents!
Get three 1 oz. (approx) guest soaps in a variety of scents, our FishLips Lemon/Lime 100% Natural Lip Balm and two assorted scent Bath Fizzie Sachets in our Chinese Take-Out Giftbox!
Our most popular giftbag! Any three bars of soap, a lipbalm, two bath fizzies and a choice of one of the following: another bar of soap, a soap lift, a net soap-on-a-rope bag or a 1.5 oz pot of pure Shea Butter.
Get everything in our $20 gift bag, plus add another three bars of soap--mix or match--your choice!
Get everything in our $30 gift bag, plus an Herbal Eye Pillow with your choice of fabric cover.
Get everything in our $40 gift bag, plus another three bars of soap! So that is NINE bars of our wonderful soap, an herbal eye pillow, two bath fizzies, a lipbalm and your choice of one $5 item (another bar of soap, a soap lift, a soap-n-a-rope bag or a pot of shea butter!)